So I'm embarking on this project that I began, 2/9/14. I'm pretty embarrassed about how long it will probably take me but I don't have hours a day to devote to this and I'm a sloooooooow x-stitcher.
Here is what it will look like when it's finished. It will be roughly 10" by 8" and around 21,000 stitches. Here is the pattern, which is sort of overwhelming. I'm going to use painters tape to mark off the area I'm working on so I don't spend hours finding my spot over and over.
And here is the thread that will become my masterpiece!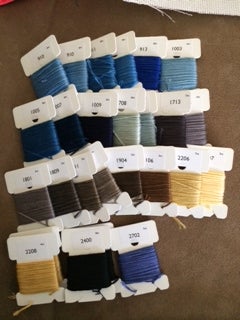 Update 2/16/14: I've been working on this for about a week now. Please note that a week is probably 5-7 hours. The peep and working full time make it hard to find the time to spend on it. Here is my progress so far. I'll update in the crafting posts in the future.
ETA: I've never done a huge complicated x-stitch before so any tips would be appreciated! Thanks!