It's official! I'm going on a 7 day cruise this summer to the Bahamas! It's going to be a family trip with in-laws, boyfriends, husbands, sisters, mothers, dads, the whole shebang.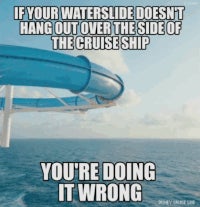 ---
So to the query: what would you wear on a cruise to a place where it's gonna be hot as balls? I'm personally leaning toward floaty dresses and cover ups. I figure two bathing suits would be good; one bikini and my favorite Beach Blanket Bingo polka dot suit. I want to get one of these fabulous large hats with a hole in the top a la Grace Kelly in To Catch A Thief:
---
I have super kinky curly hair and all hats squash it down so I figure I can gather it up in a loose puff and let it stick out the top so I don't get hat hair but I can also protect my face and eyes from the sun.

---
What would you guys wear? What do you like to pack for a sunny, beachy, crazy-boiling-hot vacation?