Dear GT,
I've been polling you a lot. Do you want to know what ended up coming of it? (I'm legit not sure.)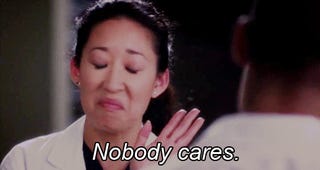 I ordered the stuff from Banana Republic. I should've listened and done the heart sweater in navy. The gray is extra sad on me. Did the boatneck in eggplant. OMG. It is a.) so soft and b.) somehow super flattering even though it's a thin material and I still have a spare tire. I forget who said it would fall apart in the wash - they're probably not wrong - but I'm gonna love it until it does. I'll be ordering the olive soon.

The tote arrives in the mail next week. I went raspberry. I still kind of want teal. Is it dumb to do both. CAN I COLLECT TOTES?!
I'm planning to do the meal box. You guys are right that it's not super practical from either a financial or packaging standpoint, but my thought process was:
I went with one that has mostly recyclable packaging.
It's temporary - I'll do it in February when I'll be beyond busy and would probably otherwise revert to eating out of fast food bags
It costs roughly the same as the fast-casual I'd probably buy instead, but contains a lot fewer preservatives/sodium.
It costs roughly the same as the grocery run I just did at Target because I was not in the mood for Walmart. (Seriously, Target - you are so convenient and so kind to your workers but your prices are so mean and your selection makes me so sad.)
I'm currently eating a pretty average meal (tacos), but it has red cabbage and lightly pickled radishes, which means I'm eating two more vegetables than I would have if we hadn't dabbled in meal boxes two years ago. So maybe I'll pick up a few new foods/food prep strategies.
So I dunno. On a few levels, it's probably a waste, but I'm trying to be a little better than I am - but if it brings in a new habit or some new info, maybe that's worth the slightly higher pricetag.

New questions!

I am suddenly and inexplicably obsessed with nice smells. (Maybe my sense of smell is returning as I get further from the hell commute and therefore healthier?) I bought some eucalyptus mint candles at TJ Maxx that smelled great when sitting, but just smell like ... burning ... when you burn them. I'm a little leery of fire and my very active dogbeasts, but essential oils involve ... talking to people who sell essential oils. Do you have a favorite candle? Or like ... wax tarte source? (Like those goofy things at Yankee Candle.) Or a candle which won't make me sad when it's just wax?
How do you prioritize stuff you need to do but aren't necessarily super excited to do? This could be exercise, cleaning, whatever. I'm using it for exercise and/or flute. I did great when I had nowhere to be, but now that school is starting to trickle back into my life, I get distracted super easily.
What's your favorite recipe for butternut squash?
I'm binge-watching Gossip Girl for reasons which are beyond me. Have you guys watched this? Who's your fave? I know Ed Westwick is the worst, but I think my propensity for fictional villains has selected Chuck Bass. (Am I the worst?)
Over winter break, we saw my brother-in-law, who is also in academia, but in a wildly different field. He's the type who knows everything about everything, so he was giving me job advice and we spent some time discovering how wildly different our fields are. (I have to recruit my own students. He couldn't fathom that they don't just show up based on the existence of the department.) What's weird about your gig? Do you try to explain it, or do you do small-talk cliffs' notes?
What have you got?