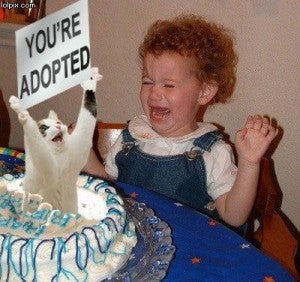 Yesterday was my birthday and it was a fiasco for most of the daylight hours. I repeatedly attempted to buy myself a birthday treat and failed. My mom had to send me rent money as my birthday present and could only cover half of October's rent, which I still haven't paid. Now I have to hit up my exboyfriend for rent money again, but if I do and it includes money for November rent, perhaps I'll stop having panic attacks every night in my sleep with occasional night terrors regarding my apartment.
When my mother called to wish me happy birthday yesterday, I was crying into my taco and drinking rum so I didn't answer the phone. I called her back and let her think that my birthday was just awesome. Eventually, Cute Boy Person texted to say that he was running about half an hour late but would be over soon. He showed up with black pants so he didn't look too normal at the goth club, chocolate covered almonds, chocolate covered espresso beans, and brownie bites that I am not allergic to. Then he jumped my bones and bought me sushi even though he doesn't eat sushi. He is a keeper, I tells ya.
This also means that I didn't start doing hair/makeup/costuming for Sexy Arthur Dent until 9:45 and I had to do a bit of a half-assed job. I still mixed my own eyeshadow to match my nightgown:
Left is with flash, right is without flash. Basically, I made fuchsia eyeshadow with pink and black glitter, using 2 MAC pigments and 3 MAC glitters. I need more of these little tubs for mixing pigments and glitters because that was awesome! The shadow matched the sexy nightie that I wore under my robe, which has this fabric:
This nightgown barely covers my ass before the lace bottom starts and it rides up, so I wore matching lace undies! I didn't have enough time to give myself huge bedhead, so I had to settle for "larger than usual" which means that I still can't brush through it. Cute Boy Person took a pic before we left the house but it's not very good. I'll have him take extra pics on Thursday.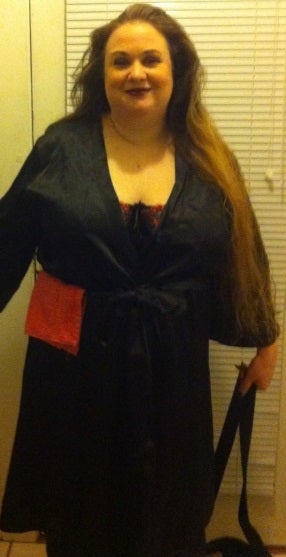 That's actually my bra (sheer black with fuchsia flowers) sticking out and the nightgown isn't visible at all. I don't have any idea why my legs are black in the picture because the robe doesn't go to my knees and I wore ankle boots.
We went out to Death Guild at the DNA Lounge. A couple of friends showed up. We drank. We danced. I introduced CBP to some goth friends. We made snarky comments about various people in the club who looked like DeposedDespot and I did a DeposedDespot dance impersonation, which apparently disturbed CBP (who knows DeposedDespot). Then we went home and had more sex.
I have blisters today because I had to wear the wrong dancing shoes (The Boots from Brazil) and I now have a blister that surrounds the scar from where I took off 100% of the skin from the bottom of my big toe, which apparently didn't hurt quite enough 8 months later. Or something.
We finally figured out today what we will be doing for Halloween: the group that did the Dr. Who burlesque show that we went to earlier this year is doing a Halloween event, featuring the Scooby Gang, The Juicy Beetlettes, and Hamsternomnomnomicon*. It's between the Halloween events at the BDSM coffee shop (and nearby goth club with a Halloween event) and the DNA Lounge, so I will be breaking out the sexy Arthur Dent costume again. This time, I won't be distracted by sex and sushi and bad birthday, so I'll start earlier and do a better job. Then I'll have CBP take pictures with an actual camera instead of an iPhone.
*If anyone in SF wants event details for this, I'll make a comment with Facebook group details.