I am a Daily Dump virgin so to try and impress you fine people of GroupThink, I tried to come up with themes for the daily post. I failed. These are those themes.
For those of you not familiar with the Dump, it's a volunteer summary of some of the day's posts. There is no official specific criteria for what gets mentioned as each volunteer makes their own theme or lack thereof.
Inspired by JennyApples' love of MasterChef UK: Professionals chef Monica Galetti's reaction shots, I attempted to do a theme with each post getting a reaction shot!
BeeVee2013 got hired to be a sub! Fantastic to see someone get a job, especially teaching! Monica approves.
And some people get paid to do crazy things in the name of "entertainment." I mean, OMG wasn't black face costumes so LAST MONTH? Monica wants to burn you!
Speaking of burning in a fire, KINJAAAAAAAA! And KINJAAAA! And KINJAAA! I think Monica sums up our feelings on the Wrath of Kinja.
And that's where that theme died.
Then there was the NBC Nightly News Theme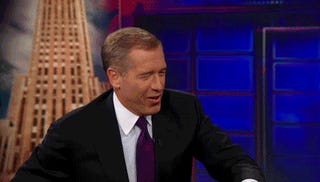 Through her investigative research (living near a mall) LadyRainicorn reports that there is a new front on the WAR ON CHRISTMAS coming from an unexpected source: Nordstrom's is actually stemming the flood of Christmastime!
In international news, intrepid reporter and working mother April Ludgate shows the adorbs and inspirational pictures of Italian Representative to the EU Licia Ronzulli bringing her daughter to work. No, not for a single day but for motherhood. Seriously awesome pics of delicate baby-to-toddler girl watching her mom kick some ass.
On the local front, there are two virtual gatherings being discussed. First off, the Horror Club watching party of Sunshine this Sunday. And later in the month, Sunday November 24th to be exact, there is another Sherlock viewing party.
And that's where that theme stopped.
Finally, I decided to say FUCK IT! Let's end this day with some happy.
Flutterdale brings some well deserved joy into our lives with Things that make me happy about Wednesday!
There-was-a-star-danced gave us what we needed. GroupThink is so many things because it is made up of all of us. GroupThink is what we put into it so let's celebrate GroupThink via GIFS!
Again, Daily Dump virgin. So be kind. Great job today GroupThink!
p.s. One of the best parts of today was the post regarding a GoFundMe page started to raise money for KillerMartini's oral surgery.
Her excellent story on poverty was mainpaged and in it she spoke of the effects her teeth have on her life. A huge hunk of change is too much for many to put up for needed surgery but with a little bit from everyone who is able... she could learn to smile again. Please check it out.