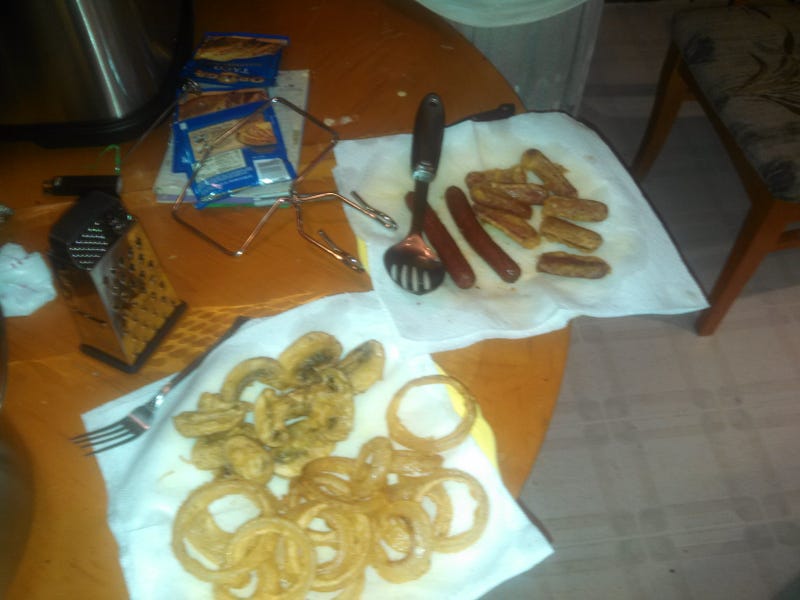 Bestie got a deep fryer for Christmas. We decided to see what we could do with a gf batter (recipe below). Vidalia onion rings, mushroom slices, battered hot dog pieces, whole plain hot dogs, and fried pickles (which are not in the picture, because my youngest ate them all!) It's a good thing we don't eat like this all the time, or I'd be as wide as I am tall!
This is a light and crunchy, tempura-type batter. Gf/df and egg free as well. Everything we fried came out well, except the battered hot dogs were (I thought) a bit much. The kids liked them, though. We fried everything in soybean oil at 350F.
1 cup cornstarch
2/3 cup gf Bisquick
1 TBS baking powder
1 tsp salt
1 tsp paprika
1 tsp garlic salt
1/2 tsp onion powder
1/2 tsp turmeric (mostly for colour, not required)
1 TBS dried parsley, crushed (optional)
Whisk everything together and stir in enough water to make a loose but not thin batter (pancake batter consistency). Dry veggies by patting with paper towels and dip in batter, coating completely. Drop in oil, and fry til they float up. They should be a light golden brown. Scoop out and place on paper towels to absorb excess oil.