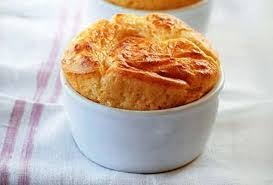 I made the most delicious breakfast this weekend! Background: I am a protein monster. I have to eat a ton of protein in the morning or I feel like crap all day. So I generally eat eggs, because they're easy and cheap. But I get SO sick of them. I'm pretty resigned to most food being fuel to me, and only truly enjoying my food once in a while. But this weekend, I was done! I needed something delicious and I didn't feel like going out for breakfast. So I raided my fridge and came up with this recipe. It serves one, REALLY generously. As long as you keep the egg and milk proportions the same, you can substitute other ingredients to your taste.
Preheat oven to 350. (I use a small convection oven) and butter an oven safe bowl. I use a corningware straightsided, 16 oz french white bowl.
4 eggs
1/4 cup + 2 Tablespoons milk. I use full-fat coconut milk. If you eat dairy, use whole milk.
1/2 - 3/4 cup chopped, roasted cauliflower. (Mine was seasoned with cumin & smoked paprika, but use whatever)
1/4 tsp fresh thyme
Large knob of fresh goat cheese, crumbled
Salt & Pepper to taste
Mix all ingredients together. Pour into buttered bowl. Cook for 25ish minutes, or until center is barely set. It might still be a little liquidy, but as long as it's thickened, it's done and will be delicious.