Today, Rolling Stone announced that it would partially retract its story about the alleged gang rape at the University of Virginia. Before the outraged start uttering the words "Duke lacrosse team," I'd like to point out the very damning facts that remain true of the UVA rape scandal, regardless of what is incorrect in the Rolling Stone article.
*UVA is still in violation of the Clery Act — a federal law that requires all colleges and universities, that participate in federal financial aid programs, to disclose information and statistics for crimes that occur on or around campus. Violations can run around $35,000.
*Walking talking point regurgitator and defender of all things UVA, Dean Nicole Eramo, who is head of UVA's Sexual Misconduct Board, is still a terrible employee. Although she may come across as a victim advocate, her twiddling thumbs and general ¯\_(ツ)_/¯ approach to sexual assault allegations allow UVA to have plausible deniability whenever it gets accused of inaction. "Hey, even though we're completely aware that a crime has allegedly happened, there's nothing we can do until the victim says we can." Can you imagine if all allegations of crime were treated this way?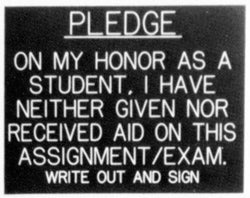 *Cheating is still a far greater transgression than rape at UVA. Rape is a felony while cheating in school isn't illegal. Above all else, that ridiculous and illogical expectation of conduct sends a far stronger message about how UVA views women than any PR tactic ever could
*Other sexual assault victims' narratives are still relevant. One questionable story doesn't invalidate everyone else. These stories have one common theme: UVA has a culture of mishandling and/or downright ignoring claims of sexual assault.
*Based on these other accounts, UVA is still in violation of Title IX, which allows for equal access to education for both genders. Mishandling of sexual violence puts women at a distinct disadvantage to that fundamental right. UVA was under investigation before Jackie's story went public.
While the details of Jackie's story are still being hashed out, we shouldn't let that overshadow the fact that UVA has a decades-long history of mishandling, ignoring, disregarding, and minimizing sexual violence on its campus. That will remain true no matter what truth comes out.