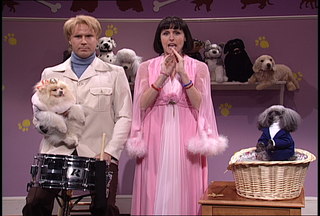 The Crufts doggy competition is going down in Birmingham, England right now, and the weather's not so great. All the better though, because it's a great opportunity to scope out the latest in doggy rain gear fashion. I'm liking the bootie designs — I was only familiar with the little paw cap style, and doing it like a stocking or a wader seems a lot more secure.
---
Then again, you can just go the old-fashioned insane dog owner route if you don't want those precious little feets to get all mucked up. Lots of onesies, too, and I learned that Newfoundlands need to wear bibs to keep the drool situation under control.
---
Fashion award goes to these Italian greyhounds, who look FANTASTIC. Also, I know RenoDakota's goofy for Brussels griffons, so I included a couple shots of them.