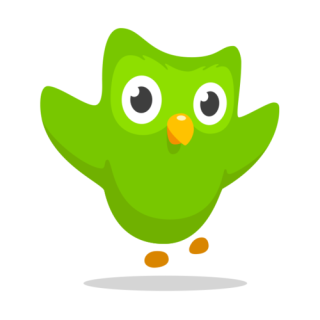 It's time for this week's Duolingo Leaderboard! Congrats to this week's leader, reddpanda!
Once again, if you're interested in participating, just follow me (MPFBonnet) on Duolingo and/or leave your username in the comments so that I can follow you—there's no specific Kinja group or anything you need to join. If you aren't participating but your name is on this list (or if you know someone else in that situation), please let me know and I'll take you off.
1060 POINTS reddpanda
1027 POINTS YellowBird2
1025 POINTS LanguageSparrow
767 POINTS PeloMorado
763 POINTS MaggiePye
742 POINTS Sciatheric
711 POINTS HappyGinnyBerry
641 POINTS skittish1
635 POINTS Screechymi
600 POINTS ICName
586 POINTS itscalledadairy
481 POINTS Georgia2681
431 POINTS BeakerC
331 POINTS meimeiann
310 POINTS rackelroo
300 POINTS piggywillow
269 POINTS McConaissa
262 POINTS ShinyRedRobotGT
255 POINTS ScarlettODahling
223 POINTS NinjaCate
221 POINTS NotBadfora
218 POINTS fireheadgirl
209 POINTS Antsie
198 POINTS Tam_Tams
186 POINTS Chimica
170 POINTS NillaW
160 POINTS MPFBonnet
147 POINTS boobiechick
140 POINTS Offkilterlearner
139 POINTS Lexa49
135 POINTS lurkerbynature
113 POINTS ROCHELLEx2
110 POINTS CobaltSeaGlass
104 POINTS zeusttu
93 POINTS DelfiGax
83 POINTS Snax2
80 POINTS GenghisKhant
74 POINTS rachel.dir
70 POINTS ScavvyGT
70 POINTS ISpeakJive
69 POINTS callshannanigans
60 POINTS slickmillie
53 POINTS daisychainlink
50 POINTS FallingGT
37 POINTS NYCyclist
24 POINTS avisatra
23 POINTS LemonadeLover
23 POINTS LaChategris
22 POINTS NotAnEggplant
10 POINTS rachclaire
And with zero points: edithgrove, ItEatsYourBottom, CamillaPB23, rainbowbrighteye, seekingdesigns, singsyoursong, gertbadger, Halfeclipse, FoilyDoily, Iaurhirwen, klewless, Couchplanted, wheelchairjimmy, Erudita_Vanitas, zhandi1, jetpantsplease, NikkiDix, MadamePL, PolllyJenna, CajunGinger, lawlover, la_cee, DomesticDork, hedgehogging, quashit, xeos6, alaiyokoan, Opalsarebest, MitsubiShe, Labtheque, ojintoad, la.woman, abayaespanol, RicardoAmanueces, ThatCutieCarly, Lisa.Elizabeth, Aurora_F, exkette, Laania42, AgadorSpartacus, LttlMsSnshn, namechanged, Luckykittah, and Pyrax.
Happy conjugating, everyone!