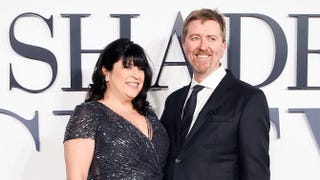 I can hardly breathe for laughing, so I'm going to let Variety's write-up do the talking:

Niall Leonard, E.L. James' husband, has been tapped to pen the screenplay for "Fifty Shades Darker," the sequel to Universal's "Fifty Shades of Grey."

Dakota Johnson and Jamie Dornan are attached to reprise their roles with James, Dana Brunetti and Michael De Luca producing.

While this will mark Leonard's first time working on a major studio film, he has written scripts for British television on such shows as "Wild at Heart" and "Wire in the Blood." Variety first reported in February that the reason for the delay in naming a screenwriter for the sequel was that James herself wanted to write the screenplay.
And yes, Sam Taylor-Johnson is gone.
Guys, this is even better/worse than I could've ever hoped.
This will be an absolute shit-show.
I cannot wait.