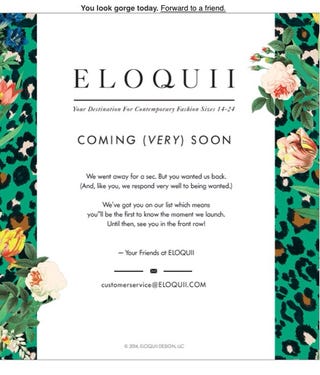 Ahhhh!!! Just got this email. Eloquii is coming back!
For those who don't know, Eloquii is/was a plus sized line from The Limited. It had great clothes, but was short lived as there was like no marketing of the line by The Limited.
I only found out about the store just a few months before it shut down. And let me tell you, I bought everything from it. Great casual clothes, but so many bright, happy, and youthful work clothes that are like the staples in my wardrobe.
Anyways, apparently Eloquii was bought by a new company. I hope the styles are as good as they used to be. Stay tuned as Eloquii comes back this Spring.