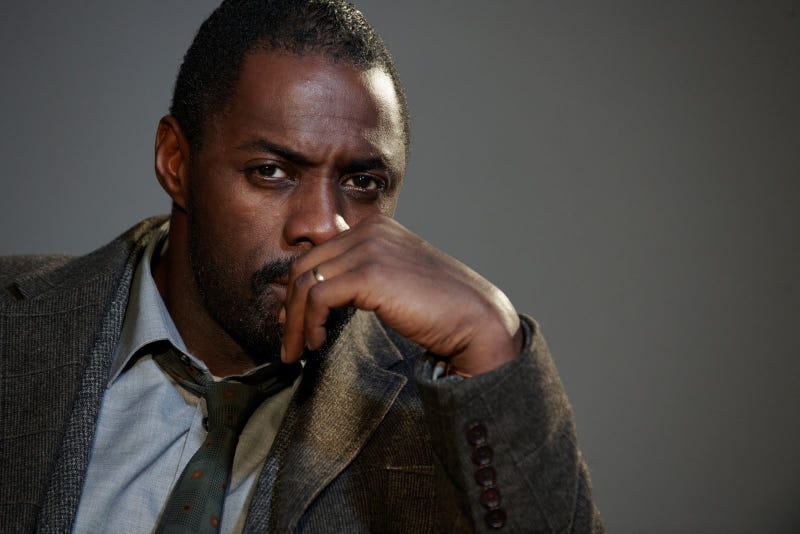 So Idris Elba and some Liam Gallagher guy I've never heard of except for he might be the babydaddy of a NY journalist (who I also have never heard of) are having a (faux?) feud/ testosterone fest/moment of supressed desire which allegedly began with Idris rubbing this guy's hair:
Now, in a new interview with GQ, Elba explains precisely what happened on the night and makes his feelings for the Beady Eye frontman clear. Explaining how he met Gallagher in a bar and greeted him with a hug and rubbing him on the head, Elba says: "Didn't like that. Don't touch his hair, apparently. Fuck off. Next time walk with a fucking hairdresser, then." He adds: "Well, 'I'm a popular rock singer, so I'm going to be mean and fucking horrible to people just because they messed up my look.' Fuck off." Elba, who has starred in Pacific Rim and Prometheus already this year, played 'Wonderwall' during a DJ set prior to the GQ interview. Asked by the magazine if he was taking a shot at Gallagher by playing the song, Elba responds: "No! Fuck that idiot. No. I don't even know what his songs are about now or what band he's in now. No-one gives a fuck, yeah? He was popular when he was in Oasis."

I haven't followed this and maybe this is one of those Dave-Letterman-in-the-Old-days fights when it's all just to fuck around with the media, but none of that matters because that guy is goddamn lucky Idris rubbed his hair. He should never wash his hair again (although being a rock star he probably hasn't washed it in a while anyway).
tl;dr version: Idris Elba can hug and rub me anywhere.