I want to tell you about my Grandpa. My grandparents were married for over 50 years, but divorced a couple of years ago. It was a shock to the whole family — he was very religious and very against divorce up until that point. It really divided the family. Two of their kids won't talk to him, claiming that in doing so they are living the values that they were raised and are raising their children with. Even their kids have snubbed him, his own grandchildren. The other two kids, including my mom, have both been divorced and realized that it didn't reflect their value as a Christian or a person and have remained friendly with both sides. My mom looked over the papers before Grandma signed to make sure she'd be taken care of after raising his kids and 50 years of marriage. Grandma moved out of state, closer to one of my uncles.
A few months after the divorce was final, he remarried. The sanctimonious contingent thought that this was the worst thing he could do. Apparently it wasn't divorce that was so bad, but remarriage is bigamy or something. My mom and one sibling attended, out of support for him, since he had always supported them in their remarriages and life choices. My mom called Grandma ahead of time to explain her reasons to her, and that attending was not choosing sides, that she would go to Grandma's wedding if she decided to remarry, and that she would equally support both parents in what they want to do.
My mom was mostly a single mother. I went to my grandparents' house in the morning before school and after school until she got off work. I lived there off and on in high school when things got too bad at home between me and my step-father. I moved back in there after college while waiting for the Peace Corps to come through. We were really close — my grandma often forgets which generation I'm in and refers to my grandpa as "dad" when talking to me.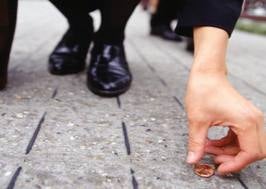 My grandpa has a funny habit. He always picks up money off the ground when he's out walking or running, and gives it to me. Smashed up pennies or unattended bills, doesn't matter. He has done this since I was very little, and also likes to gauge the economy based on what people will not bother to pick up. When I left for college, I expected him to stop, but he would gather it up in a jar and give it to me when I came home for breaks. When I came home from the Peace Corps, he had a big jar full of pennies and nickels he had found in the two years I was gone.
Last month, my mom came out to visit me for the first time, and so he sent her along with an envelope full of the change he's found since I saw him last year. He wrote a poem on the envelope that made me cry to the point where I haven't opened it yet. When I called to tell him about our trip and thank him, he told me that most of the change he found, wasn't actually found by him. He had told his new wife what he does with the change he picks up, and she started picking up change off the sidewalks too, and gives it to him to pass on to me. In fact, he claims she's better at it than him (his eyes aren't getting bad though, or so he says) and has found paper money to add to the pot. I've never met her. By all accounts she's a lovely woman. It is such a funny but touching way to reach out, joining the tradition, especially given the rifts in my family. I like her already.