I'm going to a super casual wedding next month, it is going to be mostly jeans and cowboy boots. But, because I love my flamingo dress, I'm going to wear it. The challenge, it's a mid-October in Montana. There is a chance of 70°F and sunshine, or a blizzard, possibly both in the same day. I believe the wedding is outdoors with an indoor reception. For this reason, I'm trying to make my outfit as versatile as possible.
I will be wearing this dress. It is knee length and the bow is on a removable sash.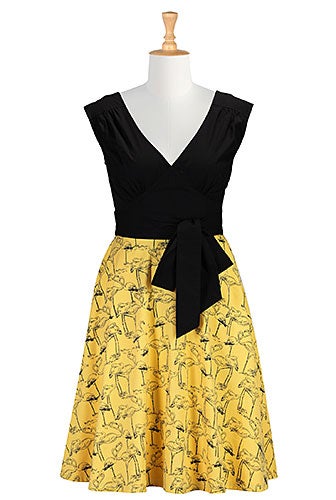 ---
I was planning on these boots, they hot just below the knee. I'm not sure I love that they are shiny, but they are the only black boots I have, and I figure boots are best for the weather.
Now comes the fashion help, what do I do up top? Would a shirt under the dress, cardigan, or jacket look best? What colors? What length (cropped, waist length, past the waist)? Any good accessory ideas?
ETA: If it is cold enough for tights, should I do those in black too? Especially since there won't be a lot of gap between boot and dress.
And I just found out my ex-boyfriend will be there. We get along fine, but now I want to look extra good.