This is not your average inquiry about flying with kids. Because in a few weeks my 6-year-old son is leaving for Africa.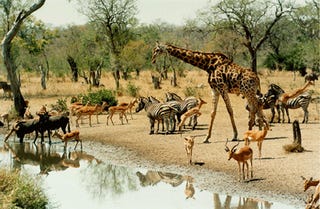 He's going with his dad—they are meeting his parents there, they've been there for a few weeks already. So, flying alone. Seattle to London and then London to Johannesburg, with a long-ass layover. My kid is preeeeety easy and he does have some travel experience, but not recent. We took him abroad when he was two and since then he's just done travel in the states.
I want to put a basket together for him to get him excited and take the pressure off his dad a bit, and I need help with some ideas! So far, I am thinking of...
Slippers. He loves these that I have, so I am going to get him the smallest and hopefully they fit.
He loves being COZY so I was thinking a comfy cashmere sweater, as they are thin and warm. But that feels too much for a kid, so I need a recommendation on a really great sweater or blanket that is not too bulky.
A travel pillow. Anyone know of any good ones for kids?
Headphones that he will actually wear.
A good water bottle.
Mints, they help him with nausea.
Those little disposable toothbrushes.
The usual stuff of snacks, workbooks, etc. I told his dad to suck it up and bring a tablet. I also told him it would be a good idea to buy access to a lounge at Heathrow if they have a long layover.
Any other ideas??