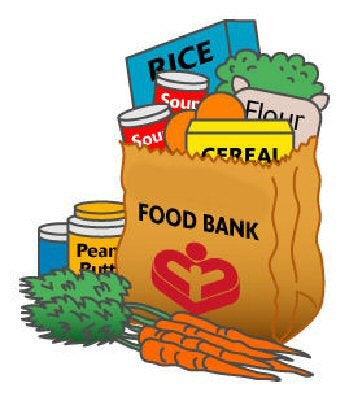 Originally, I had thought I wouldn't be able to go to the food pantry today, due to a school meeting. However, since my son is in inpatient care for the past week (I'll post an update on that tomorrow, after we see him), the meeting was canceled. So Other-Husband drove me out to pick up our stuff from the pantry. It is ungodly cold out there (with wind chill, it's -5F!) and snowing, and so windy... ugh. Winter. Why did I move back to Wisconsin, again??
This being Thanksgiving basket week, they give out a specific box for Thanksgiving, in addition to the regular stuff. We also got a $10 gift card to Pick 'n' Save so we can get a turkey :) O-H's mom goes to a different food pantry, so she has a $15 gift certificate for Aldi (it specifies for ham or turkey only), so we figure she'll get a ham, we'll get a turkey, and we'll do a big dinner for everyone here.
Everyone includes the 9 of us, my parents, my sister and her boyfriend, Husband's friend (friend has no family around here), and my neighbour and her son (she's having surgery 2 days before T-day). Possibly a few others if they don't have any other plans. None of us could afford to do a big dinner on our own, so we'll pool our resources, and have a damn good meal for 15-20 people!
Anyway, so, here's the list of stuff we got today:
1 loaf English muffin bread
1 round loaf sourdough bread
1 bag of 6 bread sticks
2 bags tortilla chips (Gf! Yay!)
1 blueberry pie
1 box of 12 sugar cookies
1 frozen pumpkin pie
1 frozen carton of cool whip
1 frozen Stouffer's apple and cranberry dessert
1 Lean Cuisine chicken and pasta meal
2 frozen single serve packs of mini blueberry pancakes
1 frozen pack of 5 brats
2 1 pound packages of pork stew meat
1 pound hamburger
4 single serve cartons light vanilla yogurt
1 16oz carton coconut milk yogurt (yay!)
1 large carton of unsweetened vanilla almond milk (yay!)
1 can Mountain Dew Code Red (mine! mmm... caffeine)
1 box Kuerig cups Starbucks dark roast coffee (I don't have a Kuerig, so I gave that to a neighbour)
6 eggs
4 onions
4 apples
5 pounds red potatoes
2 boxes honey grahmn crackers
7 single serve packs of mini shortbread cookies
4 single serve packs of chocolate and peanut butter sandwich cookies
1 bag 4th of July marshmallows
1 box banana cream pudding mix
1 box Kraft mac 'n' cheese
1 box creamy mac n cheese
1 box scalloped potatoes
1 family-size box mocha brownie mix
2 cans green beans
1 box vegetable broth (has wheat in it, for some strange reason, so that went to the neighbour, too)
1 can peas
2 big cans pumpkin pie filling
1 squashed can blueberry pie filling
1 can whole berry cranberry sauce
1 can cream of mushroom soup (to the neighbour)
2 cans fruit cocktail
1 can creamed corn (ew)
1 can candied yams
It's actually a pretty good amount of stuff this week, which is awesome. A lot of it will get set aside for Thanksgiving, obviously, and the stuff I can't use I give to my neighbour. We are going to have a "grocery exchange" at the apartment complex's office next week, too, so I'm going to bring in a bag of stuff we don't really use (cream of _ soups, mostly!) Whatever is brought in that no one takes will get donated to the food pantry.
(This took me far longer to write than I had thought, due to having to stop several times to take care of a barfing kid. Ugh. I really hope the rest of us don't get sick, too!)