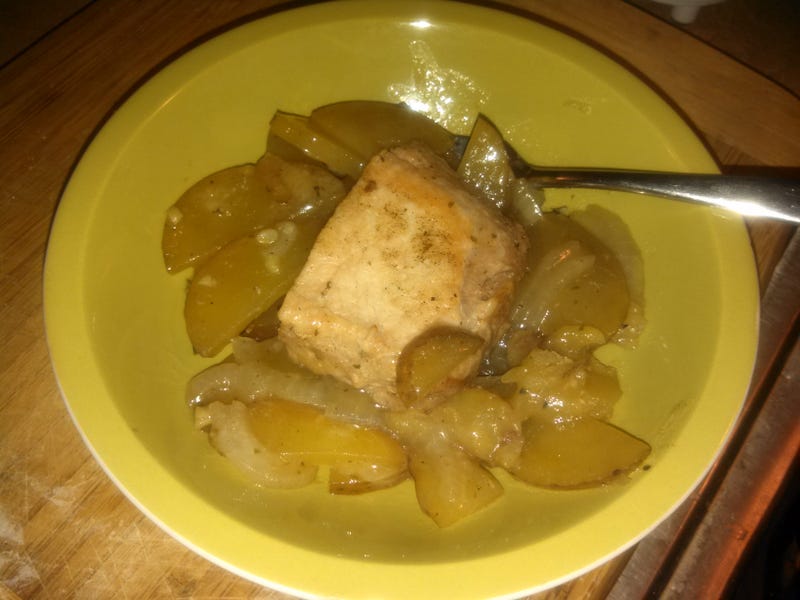 How do you make 4 pork chops feed 8 people? Cut them in half, and add potatoes! Pork chop and potato casserole... mmmmmmmm...
I greased the bottom of a 13x9 pan with bacon grease, then layered in thin sliced potatoes and thin sliced onion. 2 layers of potatoes, then half an onion and some garlic salt, then 2 more layers of potatoes, and the rest of the onion. 1 large clove of garlic minced and scattered over the top. Garlic salt, onion powder, and Romano cheese sprinkled over.
Brown the pork chops in oil with a little onion and some salt and pepper. Don't cook through, just brown the outsides. Cut chops in half, and place on top of potatoes. Use the pan juices and add some water to make gravy (a couple tablespoons of cornstarch mixed with water and slowly stirred into boiling pan juices/water). Season appropriately (I used parsley, garlic salt, onion powder, pepper, and poultry seasoning), and pour gravy over pork and potatoes. Cover tightly with foil and bake for about 45 minutes.
I was inspired by the childhood foods thread, because my grandma always made au gratin potatoes with pork chops on top. Naturally, this is not gluten or dairy free, so I got creative and made my own version. It smelled fantastic while cooking, and tastes even better. All the kids loved it and asked me to make it again. We've got a hit on our hands, folks!