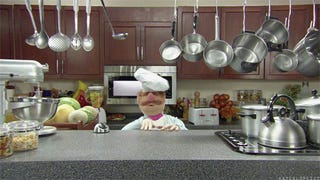 Yeah!! Cooking!!!!!
What have you guys been cooking up recently? I love snooping to see if there are any interesting ideas out there!
For the first time in a long time I actually had two proper meals yesterday, since there were leftovers from the night before (normally I just eat a snack in the day and then eat properly at dinner).
So for lunch I had the rest of the pork dish we had for dinner on Tuesday;
Shit, I had to delete the picture since it was too big and picaso won't let me re size :S
I wasn't sure if this would come out well, but was really happy with the result. I've decided to call it "Pork Jumble" since I just shoved a bunch of stuff together and hoped it would work.
This is pork, pan fried with mustard and balsamic vinegar, caramelised onions, parsnips with squash which were par-boiled, some honey added to them, then everything went into the baking dish with some vegetable stock for 25 minutes.
Then for dinner I made this:
Sorry again for the pic. God I really do hate picaso.
Anyway, this is probably one of the easiest things I've ever made, and it was SOOO good. It's basically chicken thighs, which I skinned, cooked with potatoes and sauce. I didn't pre cook anything, so it just all went in together - SO EASY. The sauce was probably one of the nicest ever I've done. All it was, was light creme fraiche (a medium/small pot) with a table spoon of mustard, some rosemary, some black pepper, and some cold chicken stock, stirred together, then poured over the chicken and potatoes. Oh yea, then I crushed three HUGE cloves of garlic into the dish before covering and putting it in to cook for 45 minutes. SO GARLICKY. SO CREAMY.
So what have you been up to?
I am actually probably happiest in the kitchen, as it is the one room where practically *everything* is mine. Also Mr Kay Kay gave me absolute freedom is putting anything and everything wherever the fuck I wanted. YAAAYYYAYAY. It''s basically my own personal room, lol.