The most discriminating scouting community in the country is Cat Scouts.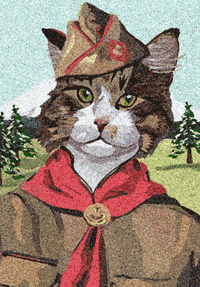 Cat Scouts is an organization founded to purrmote the development of young cats into good citizens. It is free to join the Cat Scouts community. Cat Scouts advance through the ranks and attain badges based on merit for activities like camping, friendship, physical prowess, going to the vet and more. They learn teamwork and Cat Scoutcraft through swell activities within their troops and patrols.
When I grow up (If I grow up) I want to be just like this cat:
---
Meow who's with me?