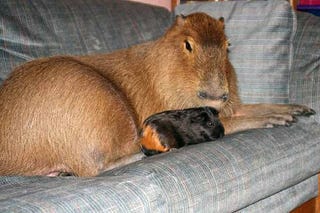 In Portland, of course.
He would also do best with an all-male household or a home with which any females are no longer capable of menstruating so as to reduce the likelihood of Ben marking his territory indoors. But we will come back to that. . .

I considered rehoming Ben when he was young as he had a bad habit of rooting for milk from where he thought I should have nipples. Which young capybaras evidently think nipples should dangle from between ones legs. This went on for 10 weeks and thanks to an athletic cup, Ben and I both survived with only two trips to the emergency room for me. Capybaras evidently are only aggressive when it comes to eating and mating. But we will come back to that in a moment. ...

Do not whistle. Whistles are how females let the males know they are ready for mating and did I mention that Capybaras are capable of running as fast as a horse? Take it from me when I say the last thing you want is a 150 lb, sexually aroused rodent galloping at you at 30 mph. I wish someone would have warned me. I ended up with two broken ribs, and abrasions all over my body from his clumsy mating attempts. Seriously. DO NOT WHISTLE.
Like a dog, but more terrifying. Oh, and with sticky hairy anal juices too. Any takers?