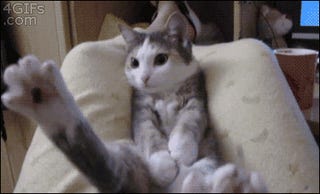 The week after a Holiday is always rough, and I am so happy it's finally Friday. I got posting privileges awhile back, but have been too nervous to post anything. Today feels like the day. When I didn't have privileges I was always on the lookout for open threads, so here's my give back. What's on your mind, GT-ers?
For me it's wondering how hateful people have so much energy. Certain MP articles I'm only there to flag ...and then I see that same person spam a comment three times. Come on, dude. No one here wants your crazy.
I cannot wait to retreat. I will become this cat promptly at five.