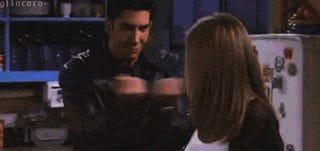 IS REALLY BRINGING OUT THE FUCK IT FRIDAY IN ALL OF US!
Let's address the serious, tragic news first, parts of Colorado are washing away from flooding. Acidmartini is keeping us updated and provided information about how we can help. Follow Falafel is providing us with continuous updates (and even more updates). Thank you both for this! We're here for you and want you to know we're thinking about you. Stay safe this weekend!
Lizzsook is having some issues with an ass-hat in her class. Picture Pierce Hawthorne from Community. That kind of ass-hat.
Iroqdemic "celebrated" her 39th birthday on September 11th. IRL it was kinda sucky- but boy do we love you and hope that birthday lovin' comes soon!
Burt made a poor decision and decided to discuss modern art. Then, all of you terrible people threw out ideas of great places for her to move. YOU CAN'T HAVE BURT. TEXAS NEEDS HER!
This morning (morning in North America) we woke up and were unable to see comments on posts. Thank you Babyotters for letting us know we weren't alone in this problem. Kinja, seriously…wtf? KINJA FUCKED WITH US ALL!
IN BREAKING NEWS!!!! BABY HAA IS HERE! CONGRATULATIONS SWEET LIZZHAA!
Fluterdale made it to South Dakota last night and graced us with the opportunity to trade funny comments and gifs for her delightful, slightly tipsy, but very witty retorts and banter. This afternoon everything started to get boozy: It's wine o'clock at Eljay's! The Houston Groupthinkers met up at BlueAlaskan's for some drinking! While sneaking a little wine, Penny was provided with unsolicited judgement from a drunk neighbor. Is he the dude in Lizzsook's class?
Other Friday News:
We learned that in the face of a natural disaster, Medusa Asudem would save her dog before her husband. In fairness, MrDusa is a Poseidon-type superhero that can punch water right in the face! Seriously, don't fuck with their family.
Spike lives in a green igloo. AN IGLOO. Rawrglicious, how do you deal with this level of cuteness day in and day out?
Yet again, Kyosuke wrote an eloquent piece, this time focusing on the absolute stupidity of Hanna Rosin. Seriously, I think we all learn something each and every time this smart lady posts.
Mitsubishe is looking for pixie cut ideas. Might I suggest Julie Roberts' hair in hook. She was Tinkerbell! (okay, I don't know the fairy-pixie equivalency, but I really love Hook!)
Don't forget to ask your friends if anyone is looking for a roomie in NYC?
I'm out!