PREPARE YOURSELVES FOR THE MOST LACKLUSTER ALL CAPS POSTING IN THE HISTORY OF ALL CAPS POSTING.
I HAVE A VERY BIG DEAL THING TOMORROW AND SO NATURALLY I AM SICK.

I AM TAKING THE REST OF THE DAY OFF TO BE SICK, WITH THE HOPE THAT IF I INDULGE THE ILLNESS, IT WILL LEAVE MY BODY MORE RAPIDLY. IT WILL LOOK APPROXIMATELY JUST LIKE THIS: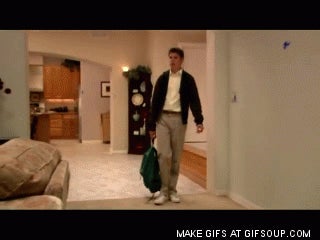 IF FLUTERDUDE CAN MANAGE TO GET HOME AT A DECENT HOUR, WE MAY CONTINUE HOUSE OF CARDS FROM LAST FRIDAY, BUT I INTEND TO SPEND THE REST OF MY FUCKING FRIDAY FUCKING SLEEPING. BECAUSE FUCKIT - IT'S FRIDAY.
YOU GOT A FUCK IT FRIDAY? BE IT GOOD OR BAD (BUT PLEASE FIND A LITTLE GOOD? I'M IN A WEAKENED CONDITION, YOU KNOW), YOU KNOW WHAT TO DO.

AS YOU WERE.