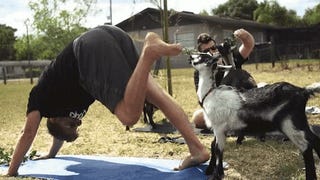 Jappy Friday! Gahhh so my Fuck It is just another in general fuck dating phone apps. No one wants to have a basic convo after a few sentences and some really just wanted to show they were only about one thing. Which is good if that's the goal bc in my area there's a lot of 'em.
Anyhoo, last weekend I did goat yoga on a farm with my friend and oh dear lord, it was the cutest, most hilarious yoga practice I have ever done. It was a full class and the owners of the goats were extremely caring and loving of them. The goats would hop on your back and nuzzle you while you were in your poses.
(One did pee on a girl's back but we were warned - she laughed it off as others did stare in horror).
QuiQue has been doing really well at about one and a half years old. I do love his energy and spirit but he does still love doing laps on me while I sleep and playing his tube ball game on the floor at 2am. I'm grateful he's a lap cat bc I've never had a lap cat before. And I've spoiled him with the laser pointer. If he even HEARS the sound of me picking it up he runs at full speed at me.
How was your week? Weekend plans?