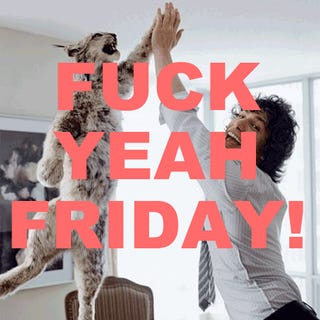 For many of us 9-5ers, it's the glorious start to the weekend! To go along with our usual FIF, it's time for FYF. Tell me what was awesome about your week, and what will be awesome about your weekend.
It's payday! And the team bbq meant I got to spend two paid hours of work not working! And it's a good thing I didn't have the time or energy to cook, because there was waaaaay too much food. I did bring a small container of tabbouli, just to see if people would stretch their palates a little and try something new, and they did! And it was a success because tabbouli is delicious!
I also finally got my card from my new bank, and I had enough to finish paying off my car and squirrel a little away into my Google Wallet in case of emergency! I volunteered to go in this weekend for more OT, but the greatest part about weekend OT is that I can literally do it whenever I feel like. I love busy season, even if it kills me, because it makes me sweet sweet monies and a half.
Things are finally looking up! I may even start working out again! About time things turned around!