It IS that time again, GT! Time for you to GIMME YOUR FURRY FACES!
The "rules": Favorites are chosen by me alone, entirely on my own whim. However, in the interest of GT solidarity, I select one dog picture and one cat picture (minimum!) each week. Other pets will also of course be considered. I love all your rats, bunnies, ferrets and other furry pals. I WILL NEVER DISCRIMINATE AGAINST CUTE. As always, I am happy to dismiss any pictures if you decide you want them taken down at some point.
Here are the winners from last time (there's a theme — let's see if you can spot it!):
MrsFinch's Mr. Fusspot brings ALL THE ATTITUDE.
Speaking of tongues, look at BeakerC's kitty, OJ.
RenoDekota's absolutely precious baby (ALSO featuring tongue..)
Team (Girl Scout) Cookies! captured her sweet kitteh yawning, which impresses me:
Finally, behold TACO THE SNAKE (bless you for sharing this, GreenHeart!):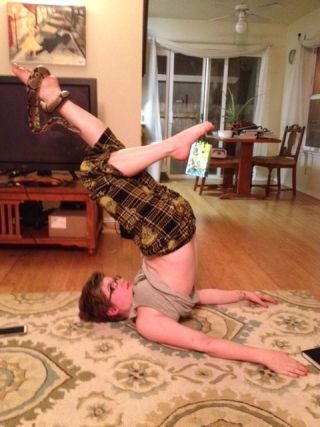 Please go look at all the adorable babies from last time. It's getting harder and harder to pick — y'all not only have gorgeous pets but you're also really good at photography, damnit!
You know the drill, troops! SHOW ME YOUR FUR FACES!!