I'm confident that I speak for all the Fur Faces in requesting peanut butter eggs & ham slices this holiday weekend. Don't be stingy!
In case you're new (in which case, welcome!): Favorites are chosen by one of the Snout Selectors (Sorcia MacNasty, Edie Beale's Pantsuit, KrabbyPaddy, mrsfinch, facw or Xyl0c41n3), entirely on our own whimsy. WHIMSY. However, in the interest of solidarity, we try to select one dog picture and one cat picture (minimum!) each week. Other pets will also, of course, be considered. We love all your rats, bunnies, ferrets and other furry, feathery & finny pals. WE WILL NEVER DISCRIMINATE AGAINST CUTE. As always, we're happy to dismiss any pictures if you decide you want them taken down at some point.

If you don't have a pet of your own to feature this week, I highly recommend featuring and linking to any cuties who are available for adoption and looking for a home on any shelter or rescue site. I know I'm not the only one lurking on Petfinder!
In that sharing spirit, if you don't have a pet but want to participate, drop off your best Internet find of an animal gif or meme or tweet in the comments. The more animal lovers, the merrier. Speaking of sharing, feel free to share these posts anywhere in the Kinja-verse, because it has been scientifically documented that looking at pictures of cute animals reduces stress.
This week we welcome 2 new Snout Selectors to this important operation: Xyl0c41n3 & facw! Yay!
On to our winners from last week~
---
Let's begin with some bunny love from BeakerC
---
MimiKrimi gives us Alice the pugilist who had a prize fight with a bee
---
Lexador's Eny had a Barkday Pawty, complete with pupcakes
---
mrsfinch's friend embroidered this pillow from Mr. Fusspot's fur
---
Lady Sparrow's new kitten Nutmeg is looking for snuggles with Pluto
---
HeyDorthVader's Pemi is a Master Napper
---
k2b's BOOPINS!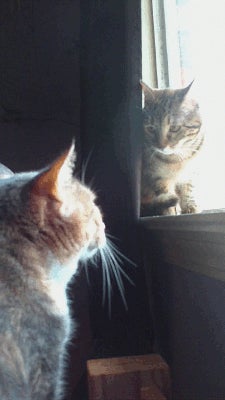 ---
OldWomanYellsAtClods said goodbye to Milo last week. Sweet dreams, beautiful boy.

Now, show us your Fur Faces!