I hope all my gorgeous GTers had a wonderful holiday and, more importantly, that you took plenty of pictures of your pets! Yep, it's that time again — Fur Face Friday! Show me your Fur Faces, GT!
Since I took a week off from FFF during the holidays, I want to present some additional favorites. Note: Favorites are chosen by me alone, entirely on my own whim. However, in the interest of GT solidarity, I am henceforth going to be selecting one dog picture and one cat picture (minimum!) each week. Other pets will also of course be considered. I love all your rats, bunnies, ferrets and other furry pals. I WILL NEVER DISCRIMINATE AGAINST CUTE. As always, I am happy to dismiss any pictures if you decide you want them taken down at some point.
Here are the winners from the week before last. Remember, you are getting two sets this once because I missed a week.
This adorable urchin belongs to PlentyofPaper. I want him on a poster.
As the lovely Boobiechick succinctly notes: This is Pixel meeting a bubble. (PIXEL. Boom. I am dead from cute).
PaleoSpeedwagon claims that Tilly is not plotting our demise but ... I am not sure I believe that...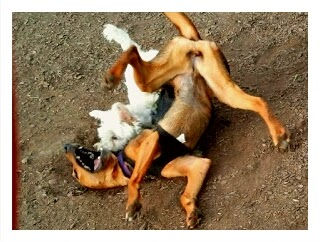 Last but not least, AThingWithFeathers won my heart with this action shot of her Westie, MacKenzie, and a new pal at the doggy park.
Congrats, all! You win the admiration of the entire internet! And now, onto more fur faces! Show me what you got, GT! I'm especially excited to see any holiday pics.