What a sad year for celebs dying. I loved Finkel's Douglas Wambaugh on Picket Fences an attorney who fought tooth and nail for every defendent and came up with bizarre defenses. At heart a very good person, he went overboard defending but could figure out fair bargains. Also had compassion for the victims. I loved seeing him spar with the Judge Bone played by Ray Walsten. God what a duo.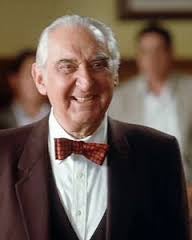 I always.wished they did a update episode and see what the characters are doing. The one who played.the oldest daughter went to costar in Charmed. The deputy she went to NCIS. I also really liked the father/sheriff.
Four years was not enough. Although it did get preachy at times.
Finkel led an extraordinary life. As Mack Bolan would say he "lived large". A full 93 years.