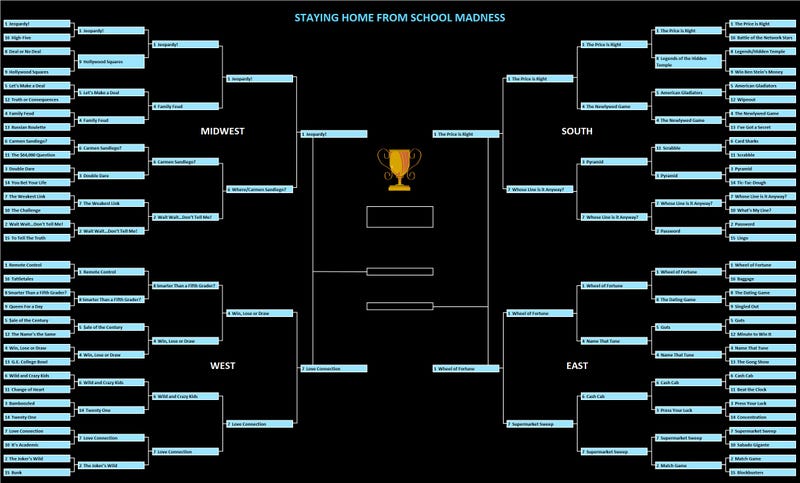 So much for Cinderella, huh? Jeopardy! sent Carmen Sandiego and her flashing lights back to whatever indecipherable continent she came from, Thin Drew Carey served as Fat Drew Carey's arms and made him punch himself in the face, and Wheel of Fortune sent Supermarket Sweep spinning without even so much as a gold foil-wrapped ham for their trouble.
Still, there's some hope! Love Connection concluded a stunning run to the Final Four by taking down the juggernaut, Win, Lose or Draw. Will they just be more cannon fodder for Jeopardy!? (Yes.) Can they carry this run through to the championship match? (No.) Vote below!
Results - 3/25
1. Jeopardy! (46) def 6. Where In the World is Carmen Sandiego? (15)
1. The Price is Right (37) def 7. Whose Line is it Anyway? (23)
1. Wheel of Fortune (35) def 7. Supermarket Sweep (23)
7. Love Connection (27) def 4. Win, Lose or Draw (26)
Today's Matchups
1. Jeopardy!
vs
7. Love Connection
1. The Price is Right
vs
1. Wheel of Fortune