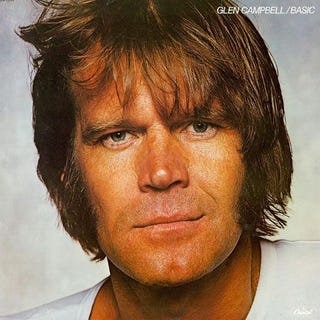 Glen Campbell died today. He was 81 & afflicted with Alzheimers. My Father is a HUGE fan & has the same affliction.
Dad had a very bad day today; he was a lion of anger & I had to counter his anger with distractions & conversation to get him to stop railing on my mother. Alzheimers & dementia heighten your default personality & my father's was pretty harsh to begin with. My mother has been on the receiving end for decades.
Even on a good day I would not have told him about Glen Campbell. It would have confused & hurt him too much. I also know he applied these love songs to my Mother back then, who he's loved more than anything in the world for 55 years. I often wonder how she's gotten through 55 years without beaning him with a frying pan:)
Me & my sisters grew up listening to his records (vinyl.) Not just Glen Campbell but a really wide range of musical genres & musicians. Daddy had one of those GIANT stereo consoles you don't see anymore. It was really a piece of furniture & he was the only person in the neighborhood that had one at the time. It looked like a sideboard but had a reel to reel tape deck, turntable & AM Radio with a dial tuner. Big speakers out front. You had to lift the top board to see inside & play music. It also had a microphone, so the capacity to record. We still have a transferred tape of my big sister at 5 years old singing "Molly Malone." "Crying Cockles & mussels, alive alive oh."
It was glorious for the late '60s & he was not a wealthy man. He was a laborer; he loaded trucks for a living& I'd bet my Mother could not have been happy about this purchase. I surmise my Father's work has accelerated his profound decline & I suspect the everyman quality of Campbell's music spoke to him. (As an aside, my Mother was 18 & my Father 23 when they married.)
But, he was at the time a true artist who was threatened with disownment if he pursued his painting & musical talent. Epithets were hurled his way regularly due to his artistic nature. He played, self taught, a nylon string classical guitar. He painted & drew at every opportunity while loading trucks to support us. Breaks my heart. I often wonder what he could have accomplished creatively if his family had been as supportive to him as he was to me.
Anyway, Glen Campbell. Traditional country music soul along with other greats of the genre. I will say Glen may have been an early template for the shit that passes as country music today, but it could never be his fault. I still find his voice & musicianship very moving. He wrote and arranged his music which I respect.
We three daughters have a special fondness for him because as tiny girls, our father loved him.
I've talked about Dolly Parton here before; she is so very under appreciated. Mark my words; she will not get her due until she dies. Then the accolades for her gifts as a musician, lyricist, singer & arranger will come pouring forth. She's a treasure, as is Loretta Lynn for the same reasons.
Have a listen if you're so inclined. I know videos are a time investment...so thank you if you DO listen:)