Upon searching the wines for a tasty red blend at the local supermarket I found this delightful wine.
Has anyone ever tasted this? I like it so far. It's definitely bold and it tastes AMAZING. I'm not a wine connoisseur (clearly) and I tend to pick stuff based on a nice label. As you can see from the ripped foil on top, I could hardly wait to get into it.
Anyway, I'm drinking it in one of my giant Scandal-style red wine glasses while waiting for Sleepy Hollow to come on.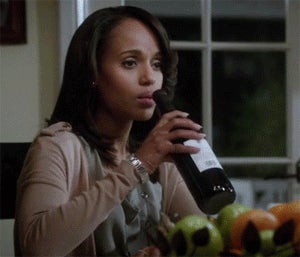 I'm so excited! And a wee bit drunk. I'm watching a commercial with a Samsung Galaxy watch. Why the hell would you ever need to answer your phone on a watch? When driving I suppose? I would totally forget to turn that feature off. Have people calling me at work going, 'HEY TAMTAMS, YOU WANNA SHOP FOR VIBRATORS LATER?" That was a call I received once from my bestie. Yes we shop for vibrators together.
ETA: The varieties of reds that are in it. I didn't know anyone would be interested but what the hell do I know??
33% Merlot,
25% Syrah,
11% Cabernet Sauvignon,
9% Zinfandel,
9% Tannat,
6% Grenache,
7% other reds
---