Poll time! I need to make two blankets for impending newborns in my life—which pattern should I use? I want to make something in a bulky yarn with lots of loft and texture to it. It also needs to knit up quick (I am pretty fast) because the first one will be here next month!
I have narrowed it down to these three options, though if you have another suggestion please let me know!
1. This sunny fluffiness, which I quite possibly like only because of the adorable beh beh in the picture: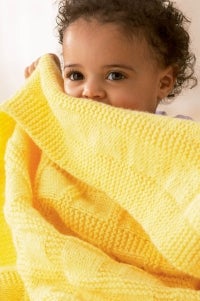 ---
Note: If I do this one, I'll do a row of double-length stitches after the garter stitch border, and then weave in a satin ribbon of contrasting color, perhaps with a bow.
2. The lofty brioche of DOOM that Jo.Stockton was complaining about on Fuck it Friday because even though it's evil it's super fluffy and knubbly:
---
3. This whimsical number in preppy chevron stripes:
---
Also, what colors should I use? I really like bright yellow for the first one, but I'm up in the air for the others. If I did the chevron one, I might use a palette like this:
---
I am not a fan of making baby blankets in super pastel colors—the beh behs need color contrast! I also give zero fucks about traditional gendered colors, so anything goes!
Edited to fix picture formatting.