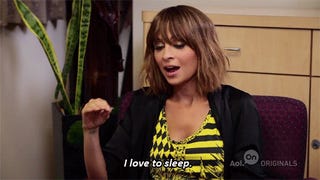 I was at a favorite(?) restaurant waiting for an internet date. I was pissed and about ready to leave, because he was really late. He came in makin' a fuss, probably drunk. I was waiting behind some sort of barrier and pretty far away so he didn't see me right away. Finally he is stumbling and pretty much yelling at everyone about nothing and I realize oh god this is my fucking date and say in satisfying monotone, "Am I the one supposed to be on a date with you right now?"

Everyone cheers around us. HE FOUND HER. OOOH ROMANCE.
He gives me a surprise hug. HANDSY. "If you squeeze me like that again you don't want to know what will happen." He slurs, "Ohhh I likeee thisss girrrl. Sheee's soooo seriousss!"
I roll my eyes and take a deep breath, following the embarrassed hostess to the table. He is behind me and, in some stupid attempt to guide me to the table, grabs be above the bum quite forcefully. I glare at him, give a disgusted look, turn around, and walk right out of the restaurant. I don't turn around for his comments or any of the people gawking at me in the restaurant. (No lookbacks/girls a badass should be a lyric in an MIA song)
I go outside and call to make plans with my best friend for tapas. I go down a blocked off street on accident(?) and end up seeing a girl checking GT while we make smalltalk. I get nervous, this is it,
"Do you even PubEat?" Shit. Shit. Shit. I am so hungry! I correct, "Pubmed. Do you even Pubmed?" She gives an intrigued look, but admits to not using Pubmed. I am crestfallen. My face emulates Eeyore. I wish I had a shell to curl into. Above all I want tapas.
"You aren't the first person to ask me this, though." I perk up again. She was asked previously in another town. "Do you know what it means? I can tell you." I add imaging this must be super weird for her. She nods. I tell her I glimpsed her phone. "I comment there. Well, sometimes. 'Do you even Pubmed' is like our secret handshake."
And then GT, I woke up from my accidental before-bedtime nap. And got on GT. So meta.