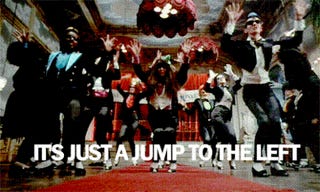 That's right - the film version of The Rocky Horror Picture Show!
I first saw it in a theater when I was 15. As it was also my first time on acid, I didn't (and still don't) remember anything about that night after Frank N Furter steps out of the elevator. I was told by everyone I went to the theater with that I had a helluva good time, though, so it's all good. :D
I finally saw the whole thing sober when it came out on home video in the '90s. Much better than I'd always heard it was.
Any RHPS memories amongst the lot of you? Share!