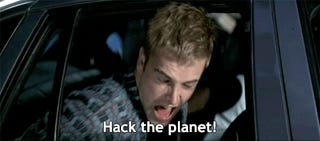 Hello one hello all. The last movie night was pretty great so I thought why not try it again. If you can hack the gibson then you can attend this party. We will be starting the film Hackers on Sunday September 4th at 4 pm EST or 9pm CET for you 'cross the ponders.
How to? Just show up in the GT Discord http://www.discord.me/groupthink) at the appointed time, hop in the #movienight channel, and prepare to gif spam and trash talk matthew lillard (man he went from awesome hacker to ......shaggy /shrug).
We're going to be starting a bit of a nonsense tradition of making food based on the movie we're watching so if you're up to the task we will be making pulled pork nachos and pairing it with a Mt. Dew themed cocktail. I'll put a recipe up sometime tomorrow as a reminder that this is happening and as a template if you want to make it!