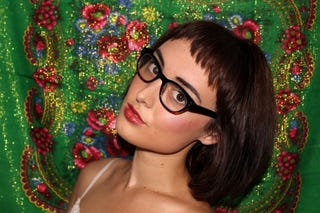 SWF seeking unbiased, honest opinions from strangers who don't have to worry about hurting my feelings.
I'm just going to go ahead and lose facial anonymity here because I need hair advice, and putting my face on the internet is the only way I can get some honest feedback. This picture from this xoVain article is the inspiration behind this query. I did throw this up on my FB, but sometimes input from strangers on one's appearance can be helpful (er, that is, when it's solicited. Here I am soliciting).
So I'm hemming and hawing over the Eternal Question: bangs or no bangs? Fascinating, existential stuff, I know. I'm indecisive because I usually wear my hair pulled back at work (I'm an undertaker-in-training. The last thing I need to deal with is hair in my face when I'm running flowers across cemeteries and wrestling with ornery bodies that don't quite want to stay on the cot), and I'm pretty sure that with my face, long thick bangs + thick glasses + hair back = weirdly unflattering look. I mostly wear suits to work, and due to being on my feet all day, I wear leather orthotic clogs to help with my back pain and to provide stability when I'm doing heavy lifting and running around cemetery lawns. So I'm mildly neurotic that because my work attire is a bit mannish, having my hair in a bun with bangs and glasses isn't doing much to soften my appearance.
Should I try shorter bangs? Shorter hair + bangs? Side bangs? Grow 'em out? I currently feel like I've got too much going on right now with longish wavy hair, long bangs, and heavy glasses. I'd greatly appreciate opinions and suggestions on how to look less dowdy and frumpy, especially when I'm in work-mode. I really love the style in the xoVain pic, but I'm pretty sure I can't really pull that off as my jaw/chin aren't as defined as hers (let's hear it for convex profiles!). My hair is naturally wavy and veers on curly when it's shorter, but it's easy to straighten. I currently let it just do its wavy wild thing on my own time, and do a ponytail or a bun for work, and let my longish bangs flop around or pin 'em back. This is getting to be tired and old and I'd like a new look for work that's a little more feminine and flattering but still practical enough that I don't have to fuss with hair in my face.
Here's some pics to give an idea of where I'm at with my hair. I'm paralyzed with doubt and self-criticism about what I could pull off. Length isn't as much of a question as the all-important Bang Status. Suggestions are very much appreciated, please and thank you!