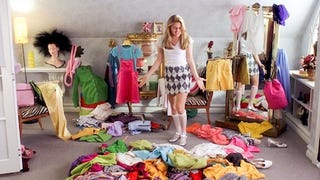 So my birthday is coming up in a few weeks (YEAH MAY BIRTHDAYS) and I'm organizing a party for everyone at a new restaurant where my friend is the exec chef.
I'm, of course, super stoked for me (erm, DUH), but mostly excited to get cool people to my friend's restaurant. Here's the thing, though: I have no idea what to wear AND I have never owned a killer LBD, and therefore need help from all of you.
I'd like to get something that is tailored and preferably around knee to just over knee length. Erm, hourglass figure, but definitely need room for curves, as a 36F and hips that could bear a litter of kittens simultaneously don't exactly squeeze into many styles.
Suggestions? Websites? PLEASE TO LEARN ME THE FASHION, THX.
—
PS. If you're LA local, check out Pizza Romana on La Brea in Hollywood! Super reasonably priced, amazing ingredients, and it has pizza, cheese plates, wine, and gelato all in one place. Yeah, it's basically heaven.