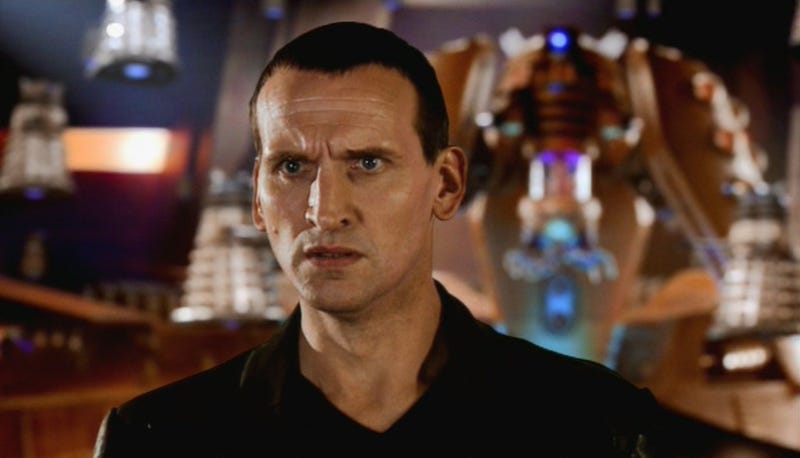 Despite my enormous disappointment at the fact that Christopher Eccleston won't be taking part in the 50th Anniversary in November, I did want to quickly mention a couple of things that have been released to memorialize the notoriously short run of the 9th Doctor. Especially before October/Ten/Tenant fever strikes.
First up: Dark Bunny is producing a line of "in-joke" t-shirts — one for each Doctor and released in "their" numerical month — and 9's have finally landed. I'm... a little unimpressed, given the level of detail that went into the previous 8 where you'd really have to be a fan to get the joke, but I'll probably still buy one.
Second: I've downloaded but have yet to read 9's 50th anniversary short story. I'm just finishing a Looking for Alaska, so it's next on the docket. For anyone interested, the 50th series has been a real mixed bag, and given the price cut that they're doing on the full set, I'd suggest waiting for that rather than getting them one-by-one off Amazon as I have. In any event, looking forward to it and the last one — for 8/Paul McGann — was actually very, very good.
I wish a lot of things had been different about the show's return and the very short run of Eccleston (arguably the best actor that the show has had in the lead role, though I have high hopes for Capaldi), but every one of those 13 episodes are, in my opinion, absolutely fantastic. Yes — even Boom Town (it has a certain corny charm).
Do you have a favorite 9th Doctor moment, GT Whovians?
Gaiman said that this was actually cut from The Doctor's Wife, an episode he did back in Series 6, and that despite the Moffat credit, it is in fact his.