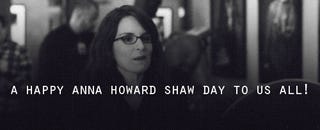 She struggled extreme conditions growing up trying to help provide for her family, was ostracized for wanting to become a minister, suffered poverty studying as the only woman in her class at Boston University, became the first woman ordained by the Methodist Protestant Church while simultaneously receiving her MD and becoming a doctor. She went on to fight for the rights of women and helped unify the cause in America. During World War I, she was head of the Women's Committee of the United States Council of National Defense, for which she became the first woman to earn the Distinguished Service Medal. And died just before Congress ratified the Nineteenth Amendment.

She was a tough broad. She went from chopping wood as a child to touring and giving lectures alongside former president Taft. That 30 Rock episode was funny, but for real, this bitch is the boss and you should all bow down.

RIP you badass bitch!