Here's an article from last year about the woman (Sarah Weddington) who argued the case. She was only 26! One firm wouldn't hire her after law school because they wouldn't be able to curse at a lady! She's from Texas (yay awesome Texas women)! Here's her picture: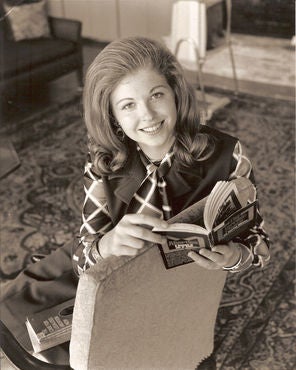 ---
Here are some statistics from the Guttmacher Institute about abortion:
Forty-two percent of women obtaining abortions have incomes below 100% of the federal poverty level ($10,830 for a single woman with no children).
Eighty-eight percent of abortions occur in the first 12 weeks of pregnancy
About 61% of abortions are obtained by women who have one or more children
Thirty-seven percent of women obtaining abortions identify as Protestant and 28% as Catholic.
---
Here is President Obama's statement today on abortion:
Today, as we reflect on the 41st anniversary of the Supreme Court decision in Roe v. Wade, we recommit ourselves to the decision's guiding principle: that every woman should be able to make her own choices about her body and her health. We reaffirm our steadfast commitment to protecting a woman's access to safe, affordable health care and her constitutional right to privacy, including the right to reproductive freedom. And we resolve to reduce the number of unintended pregnancies, support maternal and child health, and continue to build safe and healthy communities for all our children. Because this is a country where everyone deserves the same freedom and opportunities to fulfill their dreams.
It's been a great, safe 41 years, America. Let's keep it going!