Good morning, beautiful people of GT! What's good today?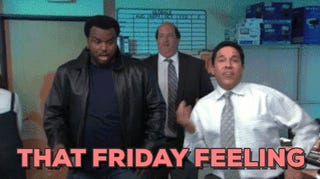 I had the first good night's sleep I've had all week last night so I'm feeling fan-fuh-reaking-tastic!
Last weekend was crazypants busy, so this weekend, I've planned two things and two things only: yoga tomorrow morning and tacos tomorrow night. :D Oh! Oh! Oh! And also? Finishing Big Little Lies!!!
How about y'all? Fun weekend plans?