So I saw this gif on Reddits front page. It is of a Dad who works three jobs, who told his daughter that he couldn't afford the dress she wanted for a dance, and then surprising her with it. It has made me smile, cry and feel every emotion under the sun in between.
His pride and joy in giving that dress to his daughter is everything!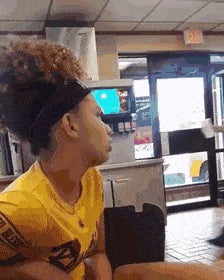 Here is the MP4 video, which is way better:
https://giant.gfycat.com/CreativeKindheartedLeafhopper.mp4
Anyway, look at how happy she is, and watching his emotions play out on his face just gives me all the feels. My father and I aren't really close, we just look at the world too differently, but this makes me want to maybe give a little more effort knowing that he is trying to grow. Maybe I will send this video to him.
What are your favorite happy gifs?