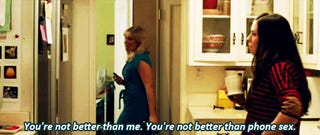 Has anyone else seen For A Good Time Call...? because I'm watching it now, across the hall from my parents' friends, who have stayed the week here. (I live with my folks.) I'm feeling a little weird to be watching a phone-sex-comedy across the hall from my former pastor.

Weird isn't the right word. Is it rebellious? immature? This whole week, they've been bugging me, with their old-people-minded uber-conservativism. The one time I joined in a conversation, it was because I couldn't hold back when my dad said, "not Hilary" for president. Of course, when I asked.... I digress. That's a story for another post. ANYHoo, we don't have similar mindsets. Apparently this makes me want to act out. That must be what it is.

It's a cute movie, though. Ari Gaynor is great. It reminds me of the kinds of comedies my friends from college and I would watch. What's the one with Cameron Diaz & Christina Applegate? Was it about stewardesses?

Oh, right. Here's the stewardess one: