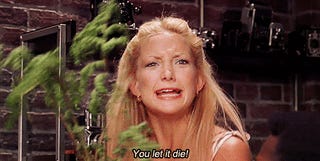 No, I'm not going to intervene (because my friend agrees with everything we say!). I don't think this sounds like abuse, just dysfunction (feel free to tell me if you feel differently). I just need to complain! Ignatius (not his real name) doesn't seem to exhibit any symptoms of an abused person. He seems to like getting pushed around by her, which is his prerogative, but UGGGGHHHH. He's got to see something in her the rest of us can't because OH MY GOD.
Exhibit A: He has to get a Yard Pass to do anything outside of the relationship.
My friend, when he wants to make a plan with friends - or, even to get together to work on projects (we collaborate on stuff a lot), he very literally says, "I have to get a yard pass from Griselda [not her real name], so I'll get back to you." It's not, "Let me make sure I didn't already make a plan with Griselda," he literally calls it a "yard pass," and it is required when he does anything without her. She has lovingly started calling it this too.
"Yard pass" is a term for when they let you go outside in prison.
I have also been stood up by him when she revokes the yard pass.
Exhibit B: She attends events he was supposed to, while making him babysit.
I know being a single mother is tough. However, there are at least 4 events over the last year that Ignatius used to attend with us, that instead, Griselda has attended, and made him babysit. I know it is a "made" him because he later laments about missing said event.
The pattern is this: Normal group of people + Ignatius: "Oh, let's get our tickets for this thing this year yayyy!" Day of the event, "I can't go, but Griselda's going to use my ticket." Talk to him the next day, "Oh yeah, she needed me to babysit the kid so she could go."
Exhibit C: She threw cigarettes at his friends.
On the rare occasion Griselda makes herself present among his friends, she is extremely rude. She tells everyone they are idiots, yells at them for eating animal products (she's not vegan - she just quotes documentaries from Netflix). She spends the entire time yelling loudly at Ignatius in a corner that his friends are the worst and she demands to be taken home right now.
One time, we were all in a friend's pool, and she sat on the side, lit cigarettes, and threw them all at us, actually hitting and burning one of us. When we said, "hey WTF" about it, she said she was hungover as her explanation for throwing lit cigarettes into a pool full of humans.
Exhibit D: She lied about being divorced.
I know there is not much emotional difference between "divorced" and "separated" - what concerns me, is that Ignatius proposed marriage to her and she said, "yes, but I'm still married" which was news to him.
In Louisiana, it takes forever to get a divorce, so he proposed marriage, she agrees, but has stalled on filing for divorce since February. So they can't set a date.
When Ignatius mentions this to anyone, he says, "She probably will get back with her ex husband. She's such a bitch. But you know, I've put in this much time, so."
Exhibit E: Yesterday she stole a bottle of scotch from my friend's house.
Which prompted me to write this, because she is so terrible. Apparently, Ignatius returned it this morning, and apologized to said friend with the added gem, "She steals a lot. You shouldn't let her in your house." OK, so your girlfriend is not house-trained?
____
To be fair, it definitely sounds like she has some emotional issues that need to be worked out, but I think we have all had someone in our lives be in a relationship with someone who is just plain awful. Feel free to complain in the comments.