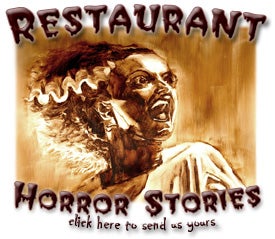 Hey, guys. A regular feature I'm looking to do for Kitchenette involves collating and printing various crazy stories from inside the restaurant/catering/food service business. I've got a few myself, but probably only enough for one article. I would be happy to re-print the story in your own words and give you credit by name (username, real name, or other pseudonym, your choice, although I assume most people would opt for username), although I'd post the collection myself on Kitchenette. I know a lot of you (AcidMartini, intheweeds, rawrglicious, at least a couple others) have worked within the industry, and there's no possible way to work in that field for longer than six months and not come away with at least one patently ridiculous experience. Customer stories are also certainly welcome if they're loopy enough.
Anyone who's willing to help with this, please please please e-mail or gchat me at WilyUbertrout@gmail.com. Thanks in advance for all your help, guys! You are the freaking best.

PS. Also, I'll be bumping this at least once so that more people will see it, so if you see it pop up multiple times on GT, that's why.