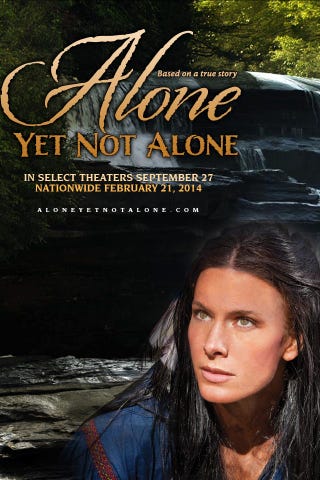 The Oscars' "best song" category tends to be a mixed bag because, as a result of plenty of top films not writing and producing original songs, it's often sprinkled with movies that received no other recognition in other areas.
Enter Alone Yet Not Alone which is currently coming under fire for possible "influence-pushing" to get its somewhat questionable and surprising "best song" nod. But whether or not Hollywood behaved like Hollywood when it comes to award season, let's focus instead on the batshit crazy uber racist Christian plot. The questionable poster above is only the tip of the iceberg, because prepare yourself for this seriously what-the-fuck-worthy synopsis on IMDB:
The year is 1755, and the English colonies are being ravaged by the atrocities of war. Opposing European powers have clashed over the fertile Ohio valley, and entire families are devastated by the ensuing violence.
Okay, fine. Seems legit.
Hostile native tribes
Wait what.
are raiding the vulnerable frontier farms, and two young sisters are among those taken captive.
NOT THE YOUNG WHITE GIRLS.
While hoping for rescue and return to their home, they are comforted with the words of a family hymn: Alone Yet Not Alone. But when the sisters are suddenly and cruelly separated, their tender faith is brought to a stretching point.
Of course that's where this is going.
Forcibly immersed into a primitive foreign culture, the older sister, Barbara, clings to her beliefs.
I'm laughing to keep from raging.
Yet now a deeper fate threatens, and she makes a difficult decision: to risk her life in an attempt to escape. Pursued by a relentless and cunning warrior, Barbara and her three fellow captives
Wait, who? Who are these other people?
must cross over two hundred miles of raw wilderness in their effort to reach friendly territory.
Read: white.
Will their courage and trust in God be enough to see them through? And if they do succeed, will they find their family? Will Barbara ever see her sister again?
THE SUSPENSE IS KILLING ME. THE SUFFERING OF THE WHITE PEOPLE SHALL NOT STAND.
Alone Yet Not Alone depicts the riveting true story of a family at a critical juncture in our nation's history.
"True." "History."
So... that's a thing that happened.
I don't know what you guys were taught in school, but our teacher winkingly informed us that some of the young women who were "captured" and "taken away from their husbands" (aka. the men who they'd been promised to at a very early age, not, like, the dude they flirted with at the ol' country store) tended to stay with the native tribes and many claim that they lived quite contentedly. But again, there's certainly a spectrum of experience — but only one experience that ever seems to get portrayed (for women, at least).
And maybe those women just lacked Jesus and the good ol' family hymn.