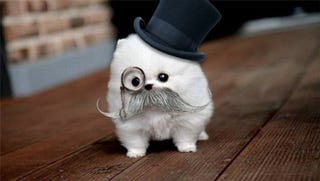 THE MUSTACHE BATTLE, BY THE GRACE OF FLUTERDAD, SHALL SOON COMMENCE!
Rounds shall be each week on Wednesday, and responses from contestants MUST be submitted in the comments within 3 days of the post. Contestants do not need to pre-register, they can simply start competing. I will post the responses on Saturdays, and the decisions will be rendered for each round by the next round. Audience participation is encouraged, but the final decisions will be rendered by the judges, so you guys will have people to get angry at.
FIRST ROUND: THE INTERVIEW. The owners of competing mustaches shall respond on behalf of their mustache.
SECOND ROUND: TALENT. This must be supported by photo or video evidence.
THIRD ROUND: SWIMSUIT. The swimsuits can be centered around the mustaches, but actual mustache swimsuits are encouraged. This must be supported by photo evidence.
FOURTH ROUND: EVENING WEAR AND FINAL QUESTION. Again, this is a mustache battle, so any evening wear should, at the very least, be centered around the mustache. This round may also be used as a way to show off evening-wear worthy mustache styling. This must be supported by photo evidence.
THE JUDGES:
paranoid_shiksa_feminista. Be warned: her dog may help, and he is not on your side.
NYCyclist and Bobby. Bobby is already judging you.
I shall serve as your awkward host, posting all the rounds and the winners. I shall also create a dismissable-for-secrecy judge-only thread in the comments of each post to facilitate discussion.
We know that our beloved Ph. Dad and Penabler are competing, but what dark horse might appear? We shall see!
THE BATTLE BEGINS IN ONE WEEK! PREPARE YOURSELVES, AND GO WITH THE GRACE OF FLUTERDAD!
---