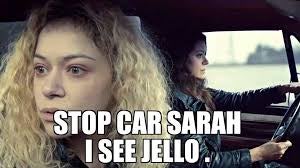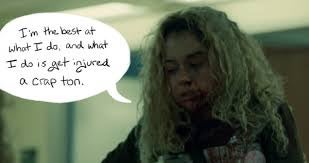 but that is a 'tail' for another time. OMG - what an effing good story!
Orphan Black is kicking my butt - and I am only on the sea 1 ep 7 - I have to slow down or I will get caught up and have to buy access to the current season and then I will be forced to wait 7 days between shows.
Sigh!
Ep 8 - the cops show up at Sara's mom's place
Alison gets high! And her neighbors have an intervention
I am giddy like teen fan-boy
You know you are close to the end when "bonus features" appear; time to order season 2.